In this episode, which is the second part of a 2 part interview, I talk to Professor Roger Short from the University of Melbourne on Asian Elephants. We discuss what evolution is doing to tusks of elephants, what elephants are used for today and what is causing their extinction, some history of elephants in ancient battles, and the tradition of mahoots – elephant keepers.
Some images courtesy of Professor Short:

The tooth of an Asian elephant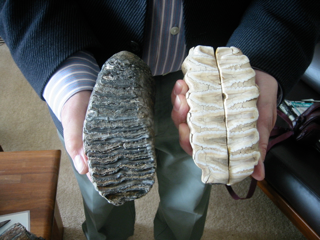 Comparing an Asian elephant's tooth to that of a mammoth – very similar!

A Mahoot's Ankus – what they use to control tamed elephants
Download MP3 of Ep 74
You can donate by clicking on the button above, and subscribe by subscribing in iTunes